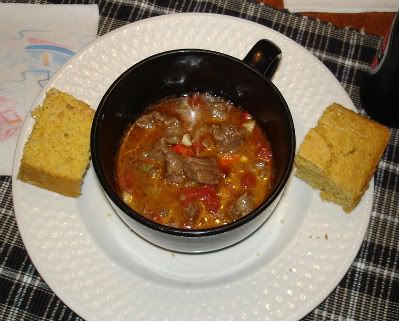 This is loosely based on the Texas chili from The Best Soups & Stews, but thoroughly adjusted for the fact that I live in Massachusetts, am lazy, like spicy things, am lazy, and don't believe in unnecessary things.

Spice Mix:
1 dried habanero chile pepper
2 dried red (cayenne?) chile peppers
2 dried tapones chile peppers
5 shakes of oregano
1.5 tablespoons cumin

Grate dried peppers, mix with cumin and oregano. Add a little water to make a paste.


1 chuck roast (mine was 2.5 lb, your mileage will vary)
1.5 onion (I like my onion)
3 small red (fresh) chile pepper (cayenne?)
! medium fresh jalepeno pepper
4 garlic gloves (I'm not a garlic fan)
1 can plain diced tomatoes
splash lemon juice
6 c water

enough oil to cook with (I use my own blend of canola and olive)

Cube beef into bite sized pieces. Set aside. Dice onion. Set aside. Dice fresh peppers and garlic. Set aside together.

Brown beef in a pan. Set aside. Drain oil and fat. In fresh oil, sautee onions until soft. Add peppers and garlic and cook until they are soft. Add spice until it smells yummy. Add a splash of lemon juice, the tomatoes, and the water. Stir.

Simmer for an hour and a half, without a cover.

*

Chili Cornbread Bread

2 c cornmeal
1 c white flour
1 egg
1 tsp baking powder
1 tsp baking soda
1/3 c oil (canola/olive blend)
shake of salt
1/4 c brown sugar
2.5 c milk (Lactaid, 1%)

In a bowl, mix cornmeal and milk. Set aside. Mix other ingredients in larger bowl. Add milk/cornmeal mix. Stir thoroughly.

Bake for 30 minutes at 375 degrees F.

*

This was rather spicy, but definitely got a thumbs up from my guinea pigs. (It was pointed out that my mother grew up in a house where spaghetti and meatballs was met with suspicion so whenever I come out with dishes like this, the eyebrows go up.) Three people consumed about half the chili and most of the cornbread *and* a fair amount of beer, if that helps you with the heat factor.

I think that this was my favorite cornbread to date and is definitely designed to counteract the chile peppers - milk-based, more cornmeal than white flour.

I based the chili on a combo of the cookbook, a bunch of online recipes, and research into 1870's/80's Texan diet. And my love of things that make my face burn. I purposefully rejected the many places that suggested using bacon because bacon is a major luxury in this house and I don't think the flavor would have come through the peppers. I'm pondering using broth instead of water next time, but I'm not sure.